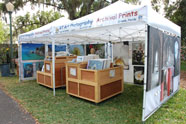 Roger and Trish McNicholas began RT Art in 2002. When you say our name three times quickly, you'll get the pun --- Arty Art!
As our sons headed off to college, we downsized to a bungalow in downtown Orlando only blocks from Lake Eola. We quickly realized the untold story of the scenic beauty of downtown and the idea to turn a lifelong love of photography and graphic arts into a business became reality with the purchase of our first Nikon Digital SLR Camera, and a small Epson Giclée printer. Our first "art booth" was a card table at the Eola Farmer's Market.
Over the years as the business grew, selling our own Art Photography in local art shows and markets, we gained first hand experience working with customers, learning what they liked and what they didn't like. Leveraging Roger's engineering background, we began making our own Giclées because we couldn't find prints with the product quality we wanted for our customers. As other artists saw the prints we were producing, they asked us to make Giclées for them too, including capturing their original works. From word of mouth, one artist at a time, we have grown the business to where we now produce thousands of Giclées a year. We understand artists. We've been there!

Our Values
The Fine Art Prints that we make are world class at a reasonable price, and we do everything in our power to meet your expectations so that you are proud to sell our products to your customers.